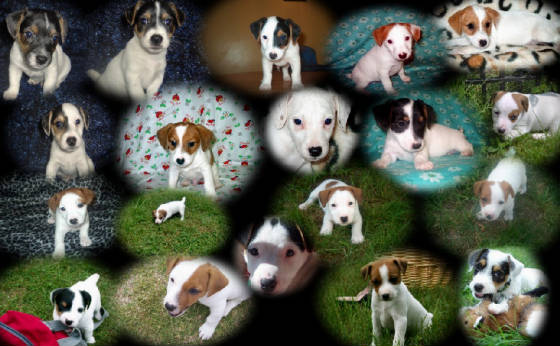 ****Special*****

We are temporarily reducing our prices. All pet companion puppies will be $800- $900 Breeders will pay regular prices.
Cookie X Loki - Fall 2010

This litter is not owned by Lucky Jacks. Cookie is a former Lucky Jacks dam who is now owned by my mother. She was bred to our Loki. She is not on our premises. She has moved back to Louisiana with my mom. This litter will be smooth coat shorty's and should mature to 10-11 inches. This will be their 1st litter together, but Cookie's 3rd litter. The pups come with a 3 year written health guarantee, dewclaws and tails done & 1st shots. We have one female puppy remaining. Cookie & Loki will be bred again June 2011. If you are interested in a future litter, you can ask about the waitlist.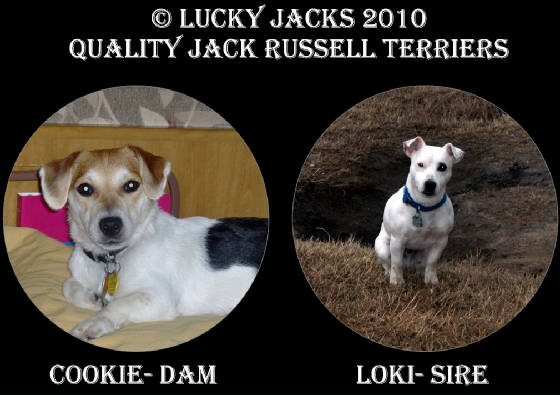 | | |
| --- | --- |
| Cookie is 4 -1/2 years old. She is 10 -1/2 inches tall and has a long smooth coat. She loves to play ball, fetch & frisbee. She loves kids! She is very comical character and loves to be with you at all times. She loves kids and any type of play she can get! She has a 3 generation pedigree from Irish & German lines. This will be her 3rd litter. She makes beautiful babies. Please be sure to check out our past puppies page! | Loki is just over a year old. He is a 10 1/2 inch smooth coat shorty. He is very sweet and affectionate, and is a loyal and loving companion. He absolutely loves kids! He is energetic, smart & happy go lucky! This will be his very first litter.He has lines straight from Ireland on mom's side & dad's side comes from Colorado Jacks , Russellville, Short Stop & Elk Creek! |
Cookie & Loki 's pups are here! They were born July 23, 2010. They will be ready for their new homes September 17, when they are 8 weeks of age. Now accepting deposits. The puppies have had their tails done & dew claws removed. they will be wormed at 2,4,6 & 8 weeks of age. They will have had their 1st shots. All work done by a veternarian. They come with a puppy pack, photo cd , shot records and lots of TLC!! NKC registration papers made available after proof of spay/neuter. Pedigrees will be available to view on pick-up.
Puppy Growth and Development & Behavior between 7 and 12 weeks
Puppies are usually found new homes at this age it starts focusing attention on its owner rather than other puppies

The first fear period of the puppy begins

A puppy starts to learn it name but still has a short attention span

The puppy will start house training

At first, the puppy should be fed four times a day. (Feedings should be reduced to twice a day by the time a puppy is mature or even once a day in the case of a dog that gets little exercise)

The puppies motor skills improve

The puppy will use its basic instincts to naturally explore its new environment and the different things within it

Puppies will still sleep a lot and grow as they are sleeping. During times of stress, a dog raises its hackles - the hair along the neck and spine

Puppy training must begin and pups need to be made aware of your rules

Puppy Growth and Development & Behavior between 12 and 16 weeks

The first of the permanent teeth will work through

Ensure the puppy has plenty of attention and toys to play with

At this age a puppy might demonstrate Pack Leader Behavior and test who is the Boss. A puppy will challenge your authority
CLICK ON THE BUTTON AT THE TOP OF THE PAGE THAT SAYS PUPPY STAGES TO LEARN MORE =)
Puppies are now 5 months old. We have one female remaining that has had all shots and would be willing to adopt to the right person. Please see my mom's contact info to find out more about her under the pup "Eva"
Eva- Staying with Foxy!
Tri-color- 3/4 mask on right and around left ear, white body.
This lil gal is the most mature in the litter. She is queen and knows it! She has her moments when she sits back and watches the others and then engages when they jack attack her lol. She is very playful and active. She has an excellent temperament and is great with the kids! My 6 year old has already snuck her into the bath! Foxy may consider letting her up for adoption. You can contact her at 504-347-2463
Please click Sissy to go to her album.
Ellie- ADOPTED
Congratulations Kristen Lundsten, of Fuquay-Varina, Nc.!
Tri-color face markings , white wide blaze, white body.
This lil gal is very sweet and friendly. She is an explorer!
Please click Ellie to see her album.
Bruiser- ADOPTED
Congratulations Dave & Heather Phillips of Greenville, N.C.
Brown Tri-color. Brown mask, all white body except for a small black spot on back.
This lil guy is a sweetie cutie pie. He is the sweetest most mellow in the litter.
Please click

Bruiser

to see his album.
Leia - ADOPTED
Congratulations Dave & Heather Phillips of Greenville, N.C.
Blk & Wht on ears solid white body.
This is mom's favorite. First to wake up and like a big mac truck coming thru lol. She is the most mature puppy and a real sweetheart...very playful. short and stocky.
Please click Leia to see her album.
Ruger (formerly Casper) -ADOPTED
Congratulations Chris Abott of Fayetteville, Nc.!
Solid white puppy with black ear freckles.
First to bark if something is going on. He is a lil shy, likes to get in the circle and play with everyone. Very friendly.
Please click Ruger (formerly Casper) to see his album.
$800 purchase price plus paypal fee total $823.50. You must have submitted a puppy application, had a successful interview with approval prior to purchasing. Must print out, fill out, sign and return

sales contract

along with deposit.
Need puppy classes or agility classes? If your local to the area....click on Candace to send her an email. Please put referred by Melissa in the subject line ! Want more info? Check out her site Tail Win'dz Agility...don't forget to let her know we referred you when you contact her!
NuVet®
We also provide our adults & puppies NuVet Plus® daily insuring they have the best start in life! I highly recommend NuVet Plus® to keep your pet on the path to continued health!
It's not available in stores, and is only available to the general public with an order code from an authorized pet professional or by ordering directly from the manufacturer. Please be sure to mention our code to get your DISCOUNT!

To Order by Phone call 800-474-7044 - Order Code: 18795

Take advantage of an additional 15% savings using auto-ship


Hey Everyone! I've got some great news for you and your pets!

Over and over I am asked the very same question from my new puppy buyers – what is the best way to house train my new puppy? This has always been a tricky answer because until recently there was no best way or worst way – just the long way. Well thankfully that has all changed!

I was recently introduced to a product called Potty Park. It literally is a toilet for dogs that can be used indoors or outdoors at your home, apartment or anywhere else your dog may need somewhere to relieve itself. Essentially it's your own private little piece of the dog park anywhere you need it.

I have seen other dog potties for sale and have been very skeptical because of the inherent dangers of all of the bacteria building up on these units, but Potty Park is made from anti-bacterial and anti-microbial medical grade materials. In fact it's the only true anti-microbial dog potty in the world!

Once I found out that the White House uses Potty Park for Bo Obama I was sold! I mean, if there was a better dog potty out there don't you think they'd be using it?

Not only does it save your floors from accidents and stains, but it also allows you to spend more quality time with your dog(s) and less time cleaning up after them.

Click this link to check out Potty Park, the world's finest dog potty!
We are not bargain basement breeders or mass producing puppy mills. We are a private breeder who only has a couple litters a year. Our puppies and adults are home-raised with 5 active children and are not kept in kennels. This way the puppies receive the most loving care and attention. You will have this dog for the next 15-20 years, so you want to get a quality puppy that has been well taken care of! Our puppies are sold with a spay neuter agreement for $800-$900 depending on pedigree, coat type & markings. They also come with a written 3 year health guarantee and I am here for any advice or questions you may have for the life of your dog! Breeding rights are available at a higher price to approved homes. Great care and expense goes into raising a healthy puppy. Expenses start with pre-pregnancy- screening the parents for good health & free from STD's. Prenatal care including vitamins and vet checks. All the extra food mama eats during pregnancy. Whelping supplies, supplemental milk, wet & dry dog food, puppy pads galore, registration papers, vet exams to include tail docking dewclaw removal and vaccinations. (My vet does everything- I am not one who takes it upon myself to do a professionals job!) Then there is the advertising to place these little darlings. These are just a few of the expenses related to raising healthy puppies. Just wanted you to get the idea that it doesn't come cheap to us. We do it for the love of the breed.
Keep in mind that most pet stores sell puppies $850-$1000 and claim they are AKC. They had no hand in breeding them or taking care of them their first weeks in life. Nor did they have the expense. They also usually only offer a 7 day guarantee! They are not acquired from reputable breeders as reputable breeders will NOT sell their puppies to pet stores. These puppies are usually purchased from
puppy mills
who keep their dogs in cages and poor conditions. More often than not these puppies have poor health, physical and mental problems that are not apparent right away. They will wind up costing you much more in the long run in vet bills. Please do not buy from a pet store! Even if you decide not to get a puppy from me, please do your homework! Do not have a puppy shipped! Make sure that you can visit the home where the puppy is raised so that you can see the living conditions. Make sure you can see and interact with the mother and hopefully father too. The parents temperament plays a big part in your puppies. If you have children, it is best to get a puppy from someone you know has raised the puppies with children. For more puppy buying tips see my
Buyer Beware!
page.
Click here to read reviews on the local pet store here in Jacksonville. Believe me these sad stories are duplicated through many many pet stores
| | | |
| --- | --- | --- |
| Awarded by: Next Day Pets | | |
| | | |
|   |   |   |

Brand new to Lucky Jacks....Our Forum!! Find useful articles, training tips, chat and make friends! Please do more than browse! Sign up and join our community. Leave your comments and questions. We hope you stick around!
| | | |
| --- | --- | --- |
| Awarded by: Next Day Pets | | |
|   |   |   |
Copyright © 2003 - 2009
Lucky Jacks / Melissa Laro
All images property of Lucky Jacks
You may not copy or use them without written consent.