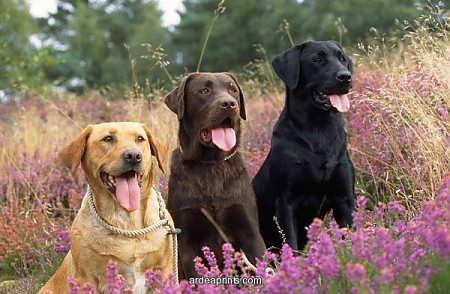 "Rare" Labradors

There are some breeders who would use our wonderful breed make a quick buck at the expense of the breed. That goes especially to those who would try to sell as "rare", and at top dollar, any mismark or colors other than the three colors accepted in Labradors world-wide. There are no rare colors in Labradors. There are three accepted colors, Black, yellow and Chocolate. The AKC standard defines shades of yellow as Light cream to fox red. Chocolates are defined as being light to dark chocolate.
Regarding "Silver", this is not an accepted Labrador color. Some of these breeders often sell other "rare" colors, such as "white". White Labradors are simply "light cream" (as defined in the Standard) yellow Labradors. They are worth no more than their other yellow siblings. Is there anything wrong with breeding the lightest yellow color in Labs? Absolutely not. They can be shown, they are correct. They're just not "rare", and they're not called "white". There is *no* mention in any accepted standard in the world of Silver, Charcoal (this is a new one!), white, caramel, or any other named color you may be tricked into believing is accepted color in Labradors. If you are interested in a very light yellow, simply tell the breeders you want a *very light yellow*. They'll understand!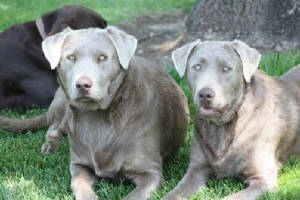 Silver is "rare", only in that there are few dogs with that color. There is a reason reputable breeders do not sell them -- It is not a proper Labrador color. Just like brindle colored Labs and Black and tan happen, and are seldom produced, so do other unusual non-standard colors. Any breeder who breeds more than a couple of litters will, in time, produce a mismark. There is nothing wrong with it, and they're just sold as pets. Contrary to the claim on one silver site, nobody feels shame when they produce a mismark. However, "silver" isn't just a "mismark".. it's something different. How different? Some say deliberately through mixed breeding when the breed was developed, some say deliberately created by recent mix breeding, and some say through a genetic fluke. Regardless, You shouldn't be asked to pay more for something that is incorrect and out of the Labrador Standard. "Silver" Labradors are not *ever* registered as "Silver"; They are registered as chocolates, and chocolates are NOT rare!
The AKC determined that silver Labradors are "dilute chocolates". The term dilute has a genetic basis. The dilute locus is "d/d". The Weimaraner is an example of a brown dog with a diluted coat color. The d/d locus is always "turned on" in Weim's. There is no known d/d locus in *purebred* Labradors.
Here is the color standard for Labradors as drafted by the Parent Club (LRC, Inc.) and accepted by the AKC:
Color
The Labrador Retriever coat colors are black, yellow and chocolate. Any other color or a combination of colors is a disqualification. A small white spot on the chest is permissible, but not desirable. White hairs from aging or scarring are not to be misinterpreted as brindling. Black--Blacks are all black. A black with brindle markings or a black with tan markings is a disqualification. Yellow--Yellows may range in color from fox-red to light cream, with variations in shading on the ears, back, and underparts of the dog. Chocolate--Chocolates can vary in shade from light to dark chocolate. Chocolate with brindle or tan markings is a disqualification.



NuVet®


We also provide our adults & puppies

NuVet Plus® daily insuring they have the best start in life! I highly recommend NuVet Plus® to keep your pet on the path to continued health!
Hey Everyone! I've got some great news for you and your pets!
Over and over I am asked the very same question from my new puppy buyers – what is the best way to house train my new puppy? This has always been a tricky answer because until recently there was no best way or worst way – just the long way. Well thankfully that has all changed!
I was recently introduced to a product called Potty Park. It literally is a toilet for dogs that can be used indoors or outdoors at your home, apartment or anywhere else your dog may need somewhere to relieve itself. Essentially it's your own private little piece of the dog park anywhere you need it.
I have seen other dog potties for sale and have been very skeptical because of the inherent dangers of all of the bacteria building up on these units, but Potty Park is made from anti-bacterial and anti-microbial medical grade materials. In fact it's the only true anti-microbial dog potty in the world!
Once I found out that the White House uses Potty Park for Bo Obama I was sold! I mean, if there was a better dog potty out there don't you think they'd be using it?
Not only does it save your floors from accidents and stains, but it also allows you to spend more quality time with your dog(s) and less time cleaning up after them.
Click this link to check out Potty Park, the world's finest dog potty!
Copyright © 2011

Lucky Labs/ Melissa Laro

All images property of Lucky Labs

You may not copy or use them without written consent.